Intro

Duly instructed, by the Seller, We Have Sold at Public Auction, both On-site & Online, the Immovable Property Situated At:
1 ESSENHOUT STREET, GREEN PASTURES, KNYSNA.
TIMELESS LUXURY: ELEGANT 5-BEDROOM HOME!

Date and time
Date: 12 August 2020.
Time: 12:00 pm.
Venue: On-Site & Online.
Viewing: By Appointment Only.
ID & PROOF OF ADDRESS REQUIRED FOR REGISTRATION. 
(Deposit Payable to Register for Online Auction Bidding)
*Follow our Pointer Boards from N2,Main Road*
Description
TIMELESS LUXURY: ELEGANT 5-BEDROOM HOME!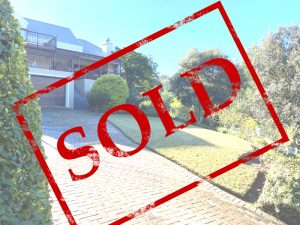 Auction One is proud to present on auction this magnificent spacious 5-bedroom home, set in a secure quiet suburb of Knysna with easy short access to all the various amenities Knysna has to offer.
From the moment you drive up the driveway the house and garden grabs your attention and one is drawn to its luxury appeal.
The house is large at over 300sqm and offers buyers comfortable well thought out living areas.
The home comprises three levels.
The ground floor offering:
Double garage with motorized doors
laundry area
Staff facilities
Large bedroom en-suite with private access
The middle floor offers:
Double volume entrance way
Open plan living and dining areas
Combustion fireplace for those winter days
Patio with stack away doors leading off the lounge with built in braai.
Kitchen with polished concrete tops and gas stove
Two large bedrooms. One bedroom opens onto the patio and the other opens onto a private patio towards the back of the house
Full family bathroom with bath and shower.
The top floor offers:
Main en-suite bedroom with double doors opening onto a deck. The main bedroom also has a separate closet area
A bedroom just at the top of the stairwell.
When you first enter the property, one is met with a large double volume entrance hall. The home gives one a sense of comfort and luxury with his hardwood staircase and beautiful hardwood windows and doors throughout the property.
The home is perfect for a large family with its 5 bedrooms and 3 bathrooms or perhaps a couple that is retiring but wanting space for when family and friends visit.
This home offers unbelievable value for money. Don't miss out!
Register today to bid!
Not a cash buyer? Don't worry, speak to our bond originator and get bond pre-approval prior to the auction date!
Terms
TERMS:
10% DEPOSIT, AUCTIONEERS COMMISSION & ADVERTISING COSTS PAYABLE ON DAY OF SALE.
Full terms & conditions of auction available for inspection.
Contact: Greg King for particulars.
125 Meade Street, Beacon Place, George, Western-Cape.
044 012 5004 / 084 556 6166 / greg@auctionone.co.za / gardenroute@auctionone.co.za
Subject to change without notice. Right of admission Reserved