Intro
We have sold at Public Auction The Potential Packed Property Situated At:

15 PRETORIUS STREET, ROSEMOUNT, EAST LONDON
ROSEMOUNT – SPACIOUS, SOLID & NEEDING TLC.
NO OUTSTANDING BOND!
Date and time
Date: 24 October 2019.
Time: 10:00 AM.
Venue: On Site.
Viewing: By Appointment or One Hour Before Auction
ID & PROOF OF ADDRESS REQUIRED FOR REGISTRATION.
Description
SIMPLY PUT, IT IS A GOOD HOME IN A LONG-STANDING FAMILY SUBURB OF EAST LONDON.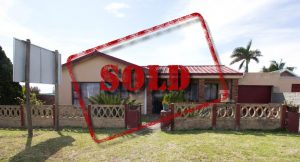 Situated in a quiet road, being a cul-de-sac with no through traffic and offering loads of potential to the purchaser who understands the value of cosmetic repair.
Painting and general maintenance will be the best and easiest way to create immediate equity in this family home.
The house consists of 3 bedrooms, built-in cupboards, family bathroom with separate loo, large lounge, dining room, huge fitted pine kitchen, pool (needing repair), garage,
PLUS an outside bedroom with a shower, toilet and basin which is considerably easy to renovate into a larger flat.
The level back garden is fully walled.
Your bid is your destiny!
Terms
TERMS:
10% DEPOSIT, AUCTIONEERS COMMISSION & ADVERTISING COSTS PAYABLE ON DATE OF SALE IMMEDIATELY AFTER AUCTION ON REQUEST.
Full terms & conditions of auction available for inspection at our offices.
Contact: Justin Rohtbart for particulars.
114 Moore Street, Quigney, East London.
043 743 6355 / 083 789 2550 / admin@auctionone.co.za / justin@auctionone.co.za.
Subject to change without notice. Right of admission Reserved.