Intro
We have sold at Public Auction The Remarkable Property Situated At:

6 EDGE VIEW CRESCENT, BEACON BAY, EAST LONDON.
OWNER URGENTLY DOWNSCALING, SOLID HOME, 90'S SPEC, NEEDING AN UPDATE & RENOVATION.
Date and time
Date: 09 October 2019.
Time: 18:00 PM.
Venue: On Site.
Viewing: By Appointment or One Hour Before Auction.
ID & PROOF OF ADDRESS REQUIRED FOR REGISTRATION.
Description
SPACIOUS FAMILY HOME, EXCELLENT LOCALITY, FANTASTIC VALUE ON OFFER!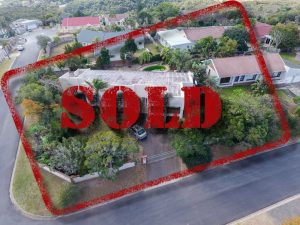 Positioned on a large corner plot within a quiet crescent of a desirable suburb of East London.
This property goes up for auction after 27 years of ownership.
The finishes are virtually unchanged from the day it was purchased. This home offers ample living space and accommodation with its solid and spacious build.
The interior consists of 4 bedrooms with built in cupboards, 2 of the bedrooms boasting en-suite bathrooms, entrance hall, 2 lounges with an eye catching formal lounge being elevated and featuring exposed beams with knotty pine ceiling, the dining room is separate.
The kitchen is open plan and fully fitted with cupboards, stove, oven and a separate scullery.
The slate tiled sunroom leads out onto the pool and offers a built in braai.
Other features include a double garage, laundry, domestic helper accommodation and the property is fully walled with remote gate access.
Upgrading the finishes will be an exciting venture and will add resale value. Come see for yourself!
Terms
TERMS:
10% DEPOSIT, AUCTIONEERS COMMISSION & ADVERTISING COSTS PAYABLE ON DATE OF SALE IMMEDIATELY AFTER AUCTION ON REQUEST.
Full terms & conditions of auction available for inspection at our offices.
Contact: Justin Rohtbart for particulars.
114 Moore Street, Quigney, East London.
043 743 6355 / 083 789 2550 / admin@auctionone.co.za / justin@auctionone.co.za.
Subject to change without notice. Right of admission Reserved.