Intro
Duly instructed by the Executor in the matter, Estate Late P & JR Fobian (Estate no: 000353/2020 & 000399/2020), We Have Sold At Public Auction:

27 SPRIGG STREET, CAMBRIDGE, EAST LONDON.
DECEASED ESTATE PROPERTY AUCTION!
Date and time
Date: 29 July 2020.
Time: 10:00 AM
Venue: On Site.
Viewing: By Appointment or One Hour Before Auction.
ID & PROOF OF ADDRESS REQUIRED FOR REGISTRATION. 
Description
THIS RESIDENCE SHOWS EXCELLENT POTENTIAL FOR RENTAL RETURN INCOME AND IS SITUATED WITHIN THE HOT SPOT SUBURB OF CAMBRIDGE.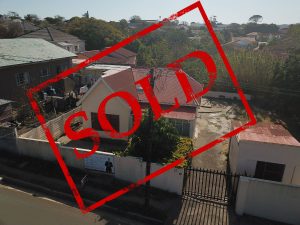 We invite you to bid on this spacious yet older home set in a sought after node of East London.
The home consists of 3 spacious bedrooms, a family bathroom, large lounge and farm size kitchen with fitted cupboards.
On the exterior, the garage has been tiled and converted for living purposes with a further large outbuilding providing a basic flatlet with lounge, bathroom and bedroom.
With very basic renovation, we see the potential for 6 internal rooms + 1 external room + the flatlet.
Come see for yourself.
Get the formula correct. Property = Cash flow production!
Terms
TERMS:
10% DEPOSIT, AUCTIONEERS COMMISSION & ADVERTISING COSTS PAYABLE ON THE FALL OF THE HAMMER.
Full terms & conditions of auction available for inspection at our offices.
Contact: Justin Rohtbart for particulars.
114 Moore Street, Quigney, East London.
043 743 6355 / 083 789 2550 / admin@auctionone.co.za / justin@auctionone.co.za.
Subject to change without notice. Right of admission Reserved.