Intro

Duly instructed, by the Seller, We have sold at Public Auction the Immovable Property Situated At:
14 PERLEMOEN CLOSE, JACOBS BAY, WESTERN CAPE.
WEST COAST SEAFRONT LIVING IN A LUXURY HOME!
Date and time
Date: 18 October 2019
Time: 12:00 pm.
Venue: On-Site.
Viewing: 1 Hour Prior to Auction / By Appointment.
ID & PROOF OF ADDRESS REQUIRED FOR REGISTRATION.
Gallety and description
WEST COAST SEAFRONT LIVING IN A LUXURY HOME!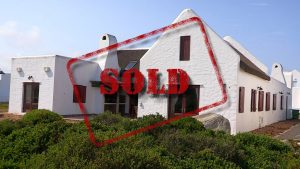 Auction One is proud to present on Auction this absolute gem of a property situated a mere 20m from the water's edge. The property is situated in the fantastic Moerie-se-baai in Jacobs Bay, just 140km from Cape Town.
This luxurious home consists of 3 en-suite bedrooms, brilliant open-plan living with a lounge dining room that leads onto a large covered patio with unspoilt views of the ocean. The home has two wings on either side of the patio, each with a sizeable bedroom and full en-suite bathroom. The 3rd bedroom en-suite is a loft room and is accessible from the lounge area.
On-top of the right wing is a balcony with a Gas Braai, perfect for those slow evenings star gazing over a glass of wine with friends and family.
Towards the back of the house is a fully contained flat which can also be used as a 4th bedroom. This flat is perfect to rent out and currently achieves R 3,500 per month rental. The home is completed with a double garage.
Added features are a full alarm system with beams and under-floor heating in the lounge and flat.
With its great positioning this home is perfect for family holidays and enjoying the splendour of the west coast with its unrivaled views.
Properties like this very rarely come on to the auction floor! This is an opportunity not to be missed!!
Documents
Documents:
Information Bidder Pack.
Terms
TERMS:
10% DEPOSIT, AUCTIONEERS COMMISSION & ADVERTISING COSTS PAYABLE ON DAY OF SALE.
Full terms & conditions of auction available for inspection.
Contact: Greg King for particulars.
125 Meade Street, Beacon Place, George, Western-Cape.
044 012 5004 / 084 556 6166 / greg@auctionone.co.za / gardenroute@auctionone.co.za
Subject to change without notice. Right of admission Reserved