Intro

We have sold at Auction the Immovable Property Situated At:
84 A.FERROX STREET,
DANA BAY
*Follow Our Pointers from Malva Road.*
EXCELLENT BUY!
Date and time
Date: 15 JUNE 2019.
Time: 11:00 AM.
Venue: ON SITE.
Viewing: By Appointment / 1 Hour Prior To Auction.
ID & PROOF OF ADDRESS REQUIRED FOR REGISTRATION.
Gallety and description
Charming sea facing beauty, surrounded by the greenbelts of Dana Bay.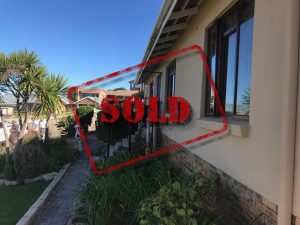 Positioned on this 693m² property is a cosy 4 bedroom home with 2 full bathrooms, 1 being en-suite.
Suitable for a developer looking for an investment as well as a family looking to settle in a quiet and safe area. Turn the 4th bedroom into a separate flat with private access and improve the rental return.
Easily accessible double garage, laminated flooring and perfectly fitted carpets.
An open-plan kitchen with a hallway leading from the bedrooms to the living room with large windows providing ample light and a brick face fireplace, perfect for enjoying your morning coffee with a view of the surrounding green belt and ocean.
A spacious backyard can cater for a second flat or extension of the main house.
The property is in a central location, close to grocery stores, schools, local post office and well established hospitals, approximately 2 minutes' drive away.
The town is located right next to Mossel Bay hosting some of the best coastal restaurants sure to please any food lover.
Enjoy all the pristine amenities coastal living has to offer.
Terms
TERMS:
10% DEPOSIT, AUCTIONEERS COMMISSION & ADVERTISING COSTS PAYABLE ON DAY OF SALE.
Full terms & conditions of auction available for inspection.
Contact: Greg King for particulars.
125 Meade Street, Beacon Place, George, Western-Cape.
044 012 5004 / 084 556 6166 / greg@auctionone.co.za / gardenroute@auctionone.co.za
Subject to change without notice. Right of admission Reserved