Intro
We have sold at Public Auction The Outstanding Commercial Property Situated At:

14 BYRON STREET, CAMBRIDGE, EAST LONDON
FULLY LET - MANTIS OFFICE PARK. 12 X INDIVIDUAL OFFICE UNITS + APPROVED DOCUMENTATION FOR FULL SECTIONALISATION OF COMPLEX AS AN OPTION!
Date and time
Date: 23 October 2019.
Time: 10:00 AM.
Venue: On Site.
Viewing: By Appointment or One Hour Before Auction
ID & PROOF OF ADDRESS REQUIRED FOR REGISTRATION.
Description
EXCEPTIONAL DESIGN AND FINISHES, A PRIME COMMERCIAL PROPERTY OPPORTUNITY WITH OPTIONS! DON'T MISS OUT!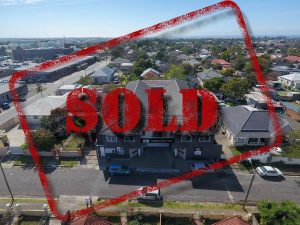 Stunning office park with a modern and architecturally pleasing design.
The Office Park and individual units boast attractive finishes and features throughout and within. Expect to see down-lighters galore, flash cornices and skirting, designer spec kitchens and bathrooms with Caesar stone counters and super appealing high-end tiling.
Windows and doors are all alloy and existing louver blinds are included.
Tenants have the luxury of choosing between various office unit designs and sizes that comprise of the following:
2 x units: Spacious reception, 3 offices, kitchen, 2 bathrooms. (1 unit with balcony).
2 x units: Spacious reception, 2 offices, kitchen, 2 bathrooms. (1 unit with balcony).
2 x units: Functional reception, 2 offices, kitchen, 1 bathroom.
6 x units: Functional reception, 1 office, kitchen, 1 bathroom.
WE LIKE the Position! Position! Position!
So close to the N2 Freeway en-route to KWT, Bisho, Umtata and more.
The privacy and high-security level of this business park is excellent.
The complex has CCTV cameras, remote and cell phone security access intercom system, 12 different tenants to spread the rental return risk, genuine undercover parking for 17 cars, 5 additional storerooms, a server room and pre-paid electricity meters within units.
Documents
Documentation:
Rent Roll – Mantis.
Mantis Office Park – Zoning Certificate.
Sectional Title Approval Documents.
Memorandum of Lease
Upstairs Office Floorplan 1 – Offices 1 & 10.
Upstairs Office Floorplan 2 – Offices 3 to 8.
Upstairs Office Floorplan 3 – Offices 2 & 9.
Downstairs Office Floorplan – Offices 11 & 12.
Terms
TERMS:
10% DEPOSIT, AUCTIONEERS COMMISSION & ADVERTISING COSTS PAYABLE ON DATE OF SALE IMMEDIATELY AFTER AUCTION ON REQUEST.
Full terms & conditions of auction available for inspection at our offices.
Contact: Justin Rohtbart for particulars.
114 Moore Street, Quigney, East London.
043 743 6355 / 083 789 2550 / admin@auctionone.co.za / justin@auctionone.co.za.
Subject to change without notice. Right of admission Reserved.