Intro
We have sold The Property Situated At:

UNIT 15 STUDIO 26, INVERLEITH TERRACE, QUIGNEY, EL.
QUIGNEY FLAT IN PRIME POSITION, ONE CHANCE!
Date and time
Coming Soon!
ID & PROOF OF ADDRESS REQUIRED FOR REGISTRATION.
Description
PRIME CENTRAL POSITION, IS THIS YOUR FIRST STEP TO PROPERTY OWNERSHIP?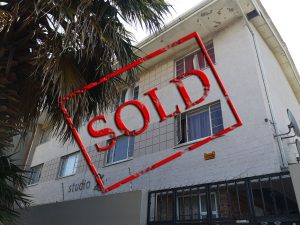 This flat offers great security & it is situated within a well-managed block of flats.
The flat consists of 1 bedroom, built-in cupboards, lounge, family bathroom, fitted melamine kitchenette and a pre-paid meter.
The property is close to universities, shops, public transport and our growing CBD.
Look at this property deal and reap the rental rewards!
Terms
TERMS:
10% DEPOSIT, AUCTIONEERS COMMISSION & ADVERTISING COSTS PAYABLE ON THE FALL OF THE HAMMER.
Full terms & conditions of auction available for inspection at our offices.
Contact: Justin Rohtbart for particulars.
114 Moore Street, Quigney, East London.
043 743 6355 / 083 789 2550 / admin@auctionone.co.za / justin@auctionone.co.za.
Subject to change without notice. Right of admission Reserved.