Intro

We Have Sold At Public Auction The Property Situated At:
FARM SOUTHDOWN,
KEI ROAD

KEI ROAD FARM WITH LUCRATIVE TRADING STORE- 307 HA OF HIGH CARRYING CAPACITY GRAZING!
Date and time
Date: 30/10/2021
Time: 12:30 PM.
Venue: On Site.
Viewing:11 AM sharp on date of Auction
ID & PROOF OF ADDRESS REQUIRED FOR REGISTRATION.
Description
WELL DEVELOPED IN EVERY ASPECT, JUST ADD LIVESTOCK AND START FARMING.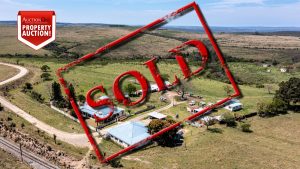 This is a HIGHLY DEVELOPED 5TH generation farm with fantastic infrastructure currently in place to earn direct revenue through agriculture, retail or wholesale type trading.
Diversity is the key to modern day farming profitability.
This well fenced farm is suited to livestock grazing or crop production with +- 15 HA of Kikuyu Grass, +- 130 Hectares of Rhodes grass and the balance being mixed veld.
The farm is divided into 7 camps with each camp having its own water supply from either ground dams or gravity fed water reticulation system delivered from the main reservoir +- 100 000L.
Water is key and is supplied from 4 large dams, 4 stock dams, strong borehole with pump and Eskom power point, spring and weir.
Working livestock is a breeze with quality cattle handling facilities, 2 x cattle race's, neck clamp, plunge dip, spray race, loading ramp and enclosed goat pens.
Buildings include the Classic and Spacious 4 bedroom Victorian homestead with pool.
Large functional trading store fully shop fitted which includes x 3 stores and a walk in cold room.
Warehouse +- 200m2, Trendy cottage with the best views, 3 x staff homes and ample outbuildings being, tractor sheds, carports and storerooms.
The farm has 3 phase electricity and is currently rented out for grazing at R15 000 per month.
The combined rental for various buildings on the farm bring in a further R6000 per month. R21 000 rental per month in total!
Needless to say this property produces and offers further income potential at present –
The seller no longer resides on the farm and the sale is NOW URGENT!
Documents
Documents
Soil Samples
Water Rights
Terms
TERMS:
10% DEPOSIT, AUCTIONEERS COMMISSION & ADVERTISING COSTS PAYABLE ON THE FALL OF THE HAMMER.
Full terms & conditions of auction available for inspection at our offices.
Contact: Justin Rohtbart for particulars.
114 Moore Street, Quigney, East London.
043 743 6355 / 083 789 2550 / admin@auctionone.co.za / justin@auctionone.co.za.
Subject to change without notice. Right of admission Reserved.