Intro

We Have Sold At Public Auction The Property Situated At:
6 CUNNINGHAM AVENUE,
CAMBRIDGE,
EAST LONDON
CAMBRIDGE HOUSE & GRANNY FLAT.
IN NEED OF SERIOUS MAKE OVER AND RENOVATION!
Date and time
Date: 11/11/2021
Time: 6 PM.
Venue: On Site.
Viewing: By Appointment or One Hour Before Auction.
ID & PROOF OF ADDRESS REQUIRED FOR REGISTRATION.
Description
SOUGHT AFTER SUBURB WITH BEST RESALE VALUE – LETS SEE YOU TRANSFORM THIS HOME!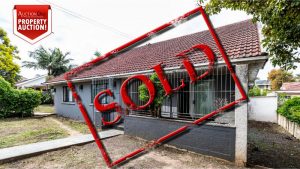 This is a superb and in demand suburb to own a home within. Our spacious offering is well built, solid and requires a genuine clean up with much needed cosmetic attention and various finishes required to bring it back to life.
The description includes, entrance hall, huge lounge, massive separate dining room, kitchen (needs new cupboards installed), 3 bedrooms and family bathroom.
The flooring is mostly Oregon pine and meranti, give it a sand down with a fresh coat of Woodoc (TM) and see it gleam.
The granny flat is a bachelor unit by design. Tiled with open plan bedroom onto lounge, kitchenette area and bathroom.
There is a further outbuilding which has been converted to a second bedsitter style flat.
The pool is requiring attention.
Large walled garden of 987m2. Do you have the vision and desire for this property?
Of course you do!
Terms
TERMS:
10% DEPOSIT, AUCTIONEERS COMMISSION & ADVERTISING COSTS PAYABLE ON THE FALL OF THE HAMMER.
Full terms & conditions of auction available for inspection at our offices.
Contact: Justin Rohtbart for particulars.
114 Moore Street, Quigney, East London.
043 743 6355 / 083 789 2550 / action@auctionone.co.za / justin@auctionone.co.za.
Subject to change without notice. Right of admission Reserved.