About Auction One
Auction One East London is headed up by Justin Rohtbart, who has 18 successful years experience in all facets of the property industry.
Justin holds a Principal Certificate with the EAAB and is fully qualified up to the latest NQF Level 5 standard.
He also holds a certificate in Auctioneering and a National Diploma in Sport Administration and Marketing.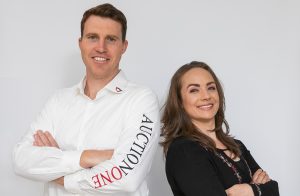 Auction One Garden Route is headed up by Greg and Claire King who have over 15 successful years of experience in all facets of the property industry.
Claire holds a Principal certificate with the EAAB and is fully qualified up to the latest NQF Level 5 standard. She is also a registered Professional Associated Valuer.
Greg has several years experience as business broker and has achieved high levels of success while working with a large International Brokerage. He received awards for broker of the year on two occasions as well as deal of the year.
One of Justin's biggest beliefs is that nothing stays the same forever as everything evolves. And that most certainly includes property transactions.  For several years most First World Countries have been using the auction technique to great effect in producing outstanding results.  Auctions for property have certainly grown in popularity in recent times within South Africa, and we are entering the transitional phase currently from old school "sell your property", to the new age demand of "Auction It" for better results.
Our highly skilled team of staff members are all handpicked, eager to assist and share a vast knowledge of property whilst contributing to our industry and clients.  Our experience is your advantage.
When it comes to a quick no nonsense property sale nothing can beat an Auction to get qualified buyers on the spot to compete against each other, which results in the best value the market has to offer for your property.  Auctions are suited to Commercial property, Residential property, Blocks of flats, Vacant land, Farms, Industrial property, and even unusual property sells well on Auction.
We take our marketing seriously as we know the better the exposure, the better the result. The media to be used is the Press, Glossy property magazine (Your Neighbourhood) and various other internet and World Wide Website based Advertising. We also have our custom signage package for each individual property & a host of alternate property magazines / newspapers we can utilize depending on your property advertising needs and requirements..
You can sit back and let the professionals get to work on auctioning your property.  We have spacious offices at 114 Moore Street, Quigney and you are always welcome to pop in for a consultation with Justin on any property related matter.